2018 Love on a Plate
2018… a year of growth and change… not all positive.
I was taken aback, when I logged into my website today and saw no new Roadchef content was added in 2018. It looks like the website was neglected, well at least the Roadchef portion. Instagram was a primary focus for all my social platforms in 2018. My Roadchef experiences were renamed @love_on.a_plate for my foodie IG page. The cool thing about working on my website now is; I considered starting a blog several times over 2018. I have thoughts and lots of things written down. The subjects cover a multitude of life categories. From the littlest and oldest loves in my life, riddled with travel, cooking, swimming, body issues to sadness & conflict and sporadic joy & laughter.
I'm taking this opportunity to update Roadchef; Love On A Plate 2018 page as an opportunity to do a mini blog. Maybe this will be my test page, or draft page, if I ever take the full plunge into blog-hood.
Beef & Bone Marrow Pho
Oh… I fell in love with Pho in NYC on November 9th, 2013. I was first introduced to Pho after an interesting evening of dinner and seeing Ronnie Wood perform at the famed Cutting Room. My obsession and more frequent consumption ensued from this very iconic day…
Bahamian Curry
I was in Eleuthera with Bahama Dan (BD) when this was created. As I've mentioned in previous Eleuthera posts, ingredients can be difficult to come by. We went to a local market owned and operated by a dear old man; Mr Millard. He's a sweet, gentle guy who has lived on Eleuthera his whole life. He usually has some fresh produce and it's the regular ice stop. I had the intention of making a healthy version of curry with sweet potatoes, onions, cilantro, coconut milk…. the usual suspects. We bought what we thought was sweet potato, later, when the prep began, I cut in the said sweet potato and the flesh was white. Turned out to be a yucca. Fortunately, if I remember correctly, this was almost a year ago as I write, it turned out to be pretty bomb! The views, wine, and company may have made my tastebuds bias.
Just because it's the cutest little Capri wine glass ever
Is this not the cutest, little wine glass you've ever seen?! I wish I could tell a great story about traveling to Capri to purchase these little treasures but unfortunately I was not part of that adventure. I was however the benefactor of consuming little sips of a lovely red that accompanied the Yucca Curry in the previous image out of these little darlings. There were quite a few dozen refills as the vessel was depleted rather quickly, but fun was had by all. Have I ever mentioned I'm very particular about what type of vessel is used to consume different beverages???? I think that may be a quirk. :)
16,000 feet above the Bahamas
I love this image. It transforms me back to the feeling I get when I'm in transit to a place I've found many peaceful, happy times filed with water, wine, music and laughter. 2018 has taught me many things, one of which is to pause when you're in a moment you wish you could capture forever. You never know if that moment will ever be recreated, or if this is the last. Sometimes you have to pause, and let yourself be consumed, so you never forget the feeling and what it means to you.
Homemade pasta... I am not italian
I got super ambitious after designing from scratch a new kitchen in a new house after moving out of the last home I lived in for 22 year. The previous; a Victorian Farmhouse built in 1865… yea… that is correct, it's not a typo…1865. Even though it was pretty much completed renovated over the 22 years of inhabiting it, it was still really old bones and renovated in an appropriate farmhouse style. The new space, a 100 years younger, was gutted and I went the complete opposite end of the design spectrum… super zen modern. Well, this huge clean, sparse ultra modern kitchen inspired me to get creative again. I dropped off the foodie creativity scene with the exception of when I was traveling during 2016—2017 due to temporary living arrangements in a nasty old rental house while on the search for a mid century modern ranch to renovate.
So, my new kitchen has inspired me. I've always wanted to make homemade pasta. Even though I eat pasta maybe 2-3 times a year, I love the stuff but it's not very conducive to my aging, trying to fight the fat granny bod. I am the youngest grandma on the planet… by the way. Regardless, this was my first attempt at homemade pasta. It was pretty impressive for a Croat's impression of a Italian Chef. I need to keep working on that skill.
Stuffed Artichoke
It's funny to go back and choose pictures when scrolling through your entire year. I remember specifically where I was, who I was cooking for and the feeling associated with each plate. This photo was taken in Avila Beach, CA. I was staying with a dear friend and my daughter, Eva, was also with us. I was fortunate enough to spend a few days in the sun and warmth cooking and spending time with people I love. Everything is so fresh in CA, and artichokes are locally grown. I was spending time with and cooking for BD, who loves garlic and artichokes… makes for a simple & fresh transformation. They're kind of fun to eat too... and I might add that I am an expert artichoke surgeon when it comes to carving out the choke and presenting the delectable heart smothered in butter and garlic. Damn, I really love artichokes.
Beautiful Trumpet Mushrooms
Roadchef in Avila Beach again. I have many fond memories of cooking up a storm in AB…in several different kitchens. During this particular trip, there were several experiments including preparing abalone for the first time…. I'll have to revisit that one. These trumpet mushrooms were so beautiful! I created a garlicky, shallotte, leak, sherry, trumpet, sauteed scallop thing…it was bomb!
Trumpets Transformed
This is the finished product of the beautiful trumpet mushrooms. They were on a bed of crispy kale. I loved it! I think I'll make this again very soon. Aha…I just had a thought…mushrooms, which I love… in every form and variety, are like TULIPS! Tulips are my favorite flower. They have such a short season and short life span…similar to mushrooms… especially the delicacy variety… the amazing, rare, scrumptious; morels & chanterelles. Do not take these precious funguses for granted. When you have them in your presence, love them with all your heart. You never know if certain special moments will ever be recreated.
Homemade Pho
Something are hard to duplicate. I take pride in dining out, eating something new and interesting and having the ability to recreate it in an improved form in my home kitchen. Pho is the exception. It's a complicated broth. There are different philosophies on the bones & spices to use. I've attempted Pho at home about 4 times to date. Each one gets better and better, and certainly I feel my aesthetic game is on point but if I was entered in a Pho Off with experienced old Vietnamese Grandmother… I'd would be schooled. I think there are certain things that are in your soul and cannot be learned. Traveling to VietNam is high on my list. If I make it there, I will hang out in every and any kitchen where I am welcome. The Pho journey continues….
Potage Saint-Germain
Chicago winters lend themselves to "Love in a Pot" stockpot creations to warm your body, mind and soul. When I was a kid, there was a crepe restaurant, The Magic Pan, not far from my childhood home. For years and years even before I started my culinary journey, I would occasionally think about this french liquid heaven. Funny… there are many things french that I absolutely love. I didn't realize this until I traveled to the South of France in October 2015. I had this realization after 10 days of consuming lots and lots of food and vino in the french riviera and shopping at the amazingly, beautiful vibrant, open air market in downtown Nice. I recall saying to my travel companion, in jest, that I must have some french in me when the realization that I unknowingly use the most common french ingredients in my cooking. Fast forward to 2018, I discovered I have a big chunk of french in me post my mom's 23 & me genetic results! It was surprise because my maternal grandmother was adopted….. that's a whole different story. Bottom line, about one time a year I made Potage Saint-Germain, and I never omit a parmesan crisp.
Eva Girl...CalPoly Graduation
Who doesn't love a Bloody??
Flying on my Dad's birthday.
October 17th, 2018, my Papa's Birthday, when I got to the airport, this was the sky as I walked through O'Hare International Airport in Chicago. I came to realise, not sure why I never thought about it before, but I have always flown on my dad's birthday for the past several years. It's never planned intentionally but I find it pretty amazing that I made this realization. My dad was a pilot. He loved to fly and travel…maybe that's where I get my wanderlust. I feel very connected to my father's spirit when I'm in the air. Some of the fondest memories I have of my Papason are flying with him when I was a little girl. We were very close and I absolutely adored him. Over the past couple decades I've made a massive emotional transformation relating to flying. I went from being so comfortable and secure in planes as a little girl to terrified after my best friend; Joan Lahart, died in the US Air plane crash of 1992… followed by 911. The terror dissipated years later as I began to frequently traveling for work. At this point, the pendulum has swung really really far as the air is one of the only places I reliably feel quiet and peace.
Cajun Scallops
Sometimes I have to jump on a plane and go to the Central Coast to be with my Eva Girl. This place represents so many things and so many experiences. There's an awesome fish market in Morro Bay. Morro Bay is a little central coast fishing town that has an enormous rock that is it's most prominent feature. This was the second time I stepped foot in this market. I had to recreate these Cajun Scallops that I made only one time before in Chicago. I knew my Eva Girl would Love them and she did not disappoint. They were tender, spicy, melted in our mouths. Scallops, without question, are my favorite shellfish. I love the central coast, I love the memories I created in this magical place and I love my Eva Girl.
What does Love on a Plate mean?
This picture is the essence of love on a plate. I love to cook for and feed my family, especially my grandbabies. I take pride in the fact that My Monkey and Ivy Pie love healthy food. I grew tons of grape tomatoes in the Summer of 18. When the kids would come over, we'd go outside and Ivy, 2 at the time, would pick and eat the tomatoes off the vine. I found great joy in this simple experience. These kids love all things delicious. They will turn their noses up to sweets for fresh fruit any day of the week. Children and programed to eat whatever is presented to them in their youth. If you set a healthy delicious example, they will love all things healthy and delicious. I love cooking for them. This morning I broke out the waffle iron and made them belgium waffles with fresh fruit. They make me smile and have taught me a new meaning of love.
ACAI
I absolutely love Acai! Krava Bowl is in a little market in the quaint California beach town of Avila Beach. Acai Bowls are delicious, refreshing, healthy, packed with crazy amounts of superfoods and are beautiful. In my usual fashion, if there is something I can only get when I'm traveling and I crave it, I had to figure out how to make it in my own kitchen. This is my first attempt at an Acai Bowl… Nailed it and it's so pretty!!
Sous Vide Cajun Shrimp & Grits
2018 was the year of the Sous Vide. Using the SV for shrimp is perfection. It's impossible for them not to be perfectly cooked. I've made these Cajun Shrimp over grits a few times since I got the SV….absolutely decadent, juicy spiciness. I've mixed up the grits/polenta bed a few times. The latest version was cauliflower polenta… a creamy healthier, but you don't even know it, version of grits. To date a Sous Vibe favorite.
Another Pho Attempt
just because it looks so pretty.
Asian Marinated Salmon on a bed of organic udon noodle salad
I love my family. I adore my brothers. I'm very close to my brother Mike. He is the person that comes as close as a person could, to making feel the safety and security my Papa made me feel. I always worry about Mike. He works incredible hard, always has. He built from scratch a custom home building business as a commercial airline pilot…sounds crazy right???
Anyone that is in a service industry understands that clients and customer can make you Nuckin"Futz !!! The stress that comes from high pressure, frustrating, complicated business situations exacerbated by Cra Cra clients can take a major toll on your health. Mix this with some scary generic health concerns will made a sister who loves a brother jump when called upon. My sister in law, Sue, Mike's wife text me November 1st and asked what I was doing and told me that Mike was stressed out and said I should come visit… I landed at STL 24 hours later. This was the first nights dinner…he loved it:)
Freshly Caught Alaskan Halibut
When you are fortunate enough to have friends that have property in Alaska and love to fish… this is what happens. Halibut is one of those crazy fish that seems like a delicacy, like morels or truffles… or like my favorite short season flower; Tulips. If you hear Halibut on a special menu, there is not other option. I packed my Sous Vibe when I traveled to cook for my bro. I Sous Vide'd this Alaskan Halibut then finished it over a hot fire, over a bed of sauteed greens, roasted tomatoes & lots of fresh herbs and spices. Amazing!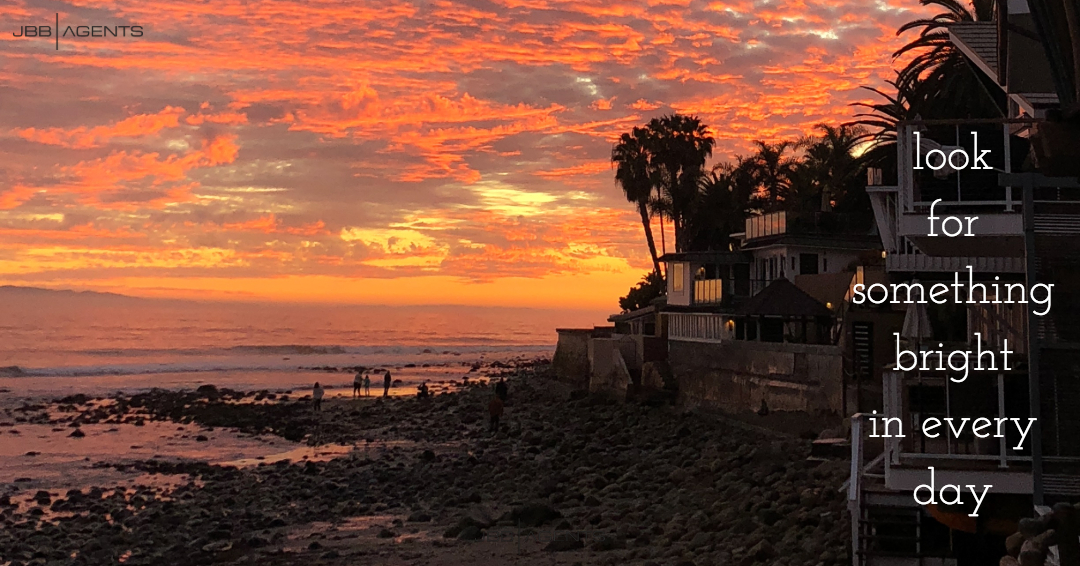 Surf Beach in Cali
Never underestimate the power of environment. If you're in a peaceful place, you'll feel peace in your heart… or… must you have peace in your heart to allow your environment to be peaceful?
I love the water, I love the beach, I love the sun.
Have you ever looked at a picture and it's represented a million different emotions that changed from day to day, month to month or year to year. I suppose that's the beauty of capturing images, it's a reminder that invokes a feeling. The sky in this picture is just one of dozens captures I took this evening. It was a continuous expression of beauty that was changing so rapidly and drastically. One was more beautiful than the next. Just when I thought it could not get any more beautiful... I took another breath.
Much like life…things can change so rapidly and drastically. Don't close your eyes for too long…you may miss something extraordinary.
Just Surrender
Uni Shots… I love sushi but I have never been able to get into Uni or Eel. Sometimes you just have to step outside of your comfortable zone to experience something cool. The environment, the peace I felt in my heart, the company and my release; surrendering to what I feared is what this shot glass full of uni, a raw quail egg and all sorts of liquidy deliciousness represents. Allowing yourself to be vulnerable and trusting can be fearful, but can also be cathartic.
CHristmas Eve 2018... cookie shots
I am not a baker. I find baking boring, it's pure chemistry, you have to follow a recipe. Reading off a page and measuring out precise ingredients does not get my motor running; it eliminates creativity.
The decorating however… seeing images of beautifully decorated pastries and desserts turns me on! I'd love to take a class sometime, somewhere fabulous, that focusing on creative dessert decorating. I follow many amazing IG pages that inspire me to create something fun, or elegant or beautiful. To date, this little cookie shot glass filled with vanilla custard and rolled in sprinkles is about as creative as I have gotten. My motto; everything's better with sprinkles.